Donner Summit may be a little short on man-made amenities but it more than makes up for it with its possibilities for the outdoor enthusiast. With Royal Gorge for the cross-country skier, Soda Springs for ski and sledding family fun, Donner Ski Ranch for an affordable and unique ski and snowboard experience (they were the first resort in California to allow snowboarding) and Sugarbowl Resort for world-class terrain, there is always something to do. There are also several public trails for snowshoeing, cross-country skiing (bring your dog!), snow mobiling and anything else you might like to do in the snow. Judah Mountain and Castle Peak are only two of many popular areas for backcountry snow sports.
In the summer there are shallow and warm Lake Serena and Lake Dulzura (which comprise "Serene Lakes"), for swimming and boating (no swimming in Lake Serena) and many beautiful alpine lakes close by. The possibilities for hiking and mountain biking are endless and road bike enthusiasts love the thrilling ride down Old Highway 40!!
Living and visiting Donner Summit are not for the faint-of-heart though; with an annual average of 34 feet of snowfall (that's 408 inches!!) we mean it when we say "we get a lot of snow up here"!

History of Donner Summit Development
Roughly, the Sierra Nevada is one enormous mountain, 400 miles long and 45 miles wide, sculpted into chasms with elevated peaks and crests up to 13,000 feet.
Donner Pass is well known for the early emigrant trail over Donner Summit, pioneered by the Stevens-Townsend-Murphy Party in 1844. There are still several places where the chain marks can be seen from emigrant wagons being hauled up over the granite. This trail was soon abandoned for an easier route through Coldstream Canyon. Between 1844 and 1852, as thousands of wagons traversed the summit, the road was improved by the cutting of trees and rolling rocks out of the way. Even so, this trail was only suitable for one-way traffic and hauling of freight was impossible.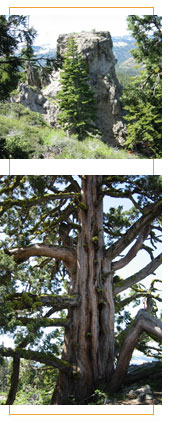 The development of Donner Summit started in 1863 when the "Big Four" (Stanford, Hopkins, Crocker and Huntington) conceived the Dutch
Flat and Donner Lake Wagon Toll Road: the DF&DL, which became the supply artery for the construction of the Central Pacific railroad. Another name that should be mentioned is Theodore Judah who was the promoter of the entire plan to link the Pacific Ocean with the Atlantic Ocean via railroad. Judah was the chief civil engineer who chose and surveyed the 800-mile route up and over our Sierras, which, even by today's standards, was an incredible feat.
In 1864 the "two-lane" road was opened. Stagecoaches, wagon and pack trains transported machinery, people and goods East and West. Charles Crocker even hauled 40 miles of track over the road to Coburn Station (now Truckee) so that the railroad could progress on the Eastern side of the Sierras. The railroad was completed in 1868 when the road was given to the counties to be used as wagon road until it became Route 37 in 1919, Lincoln Highway in 1913, Victory Highway in 1926 and finally in 1927 it became U.S Highway 40 as we know it today.
The first public place on Donner Summit was the Cardwell House, which burned down in 1892. In 1893 the new Summit Hotel was opened slightly further West, operating in conjunction with the Soda Springs Station and the hotel in Soda Springs proper all of which were catering to the huge crew of men required by Southern Pacific to maintain the road in the winter: hand snow shovelers and extra train crews. In summer, whole families would come up from the Bay Region and stay in one resort for their entire vacation. The first little town at Summit contained maybe 15 homes and a voting registration upwards of 70 and had weekly dances and a skeet club. The social elite of San Francisco was said to have summered at the Summit Hotel as they knew then what we know today: Donner Summit is quite a bit closer than Lake Tahoe.